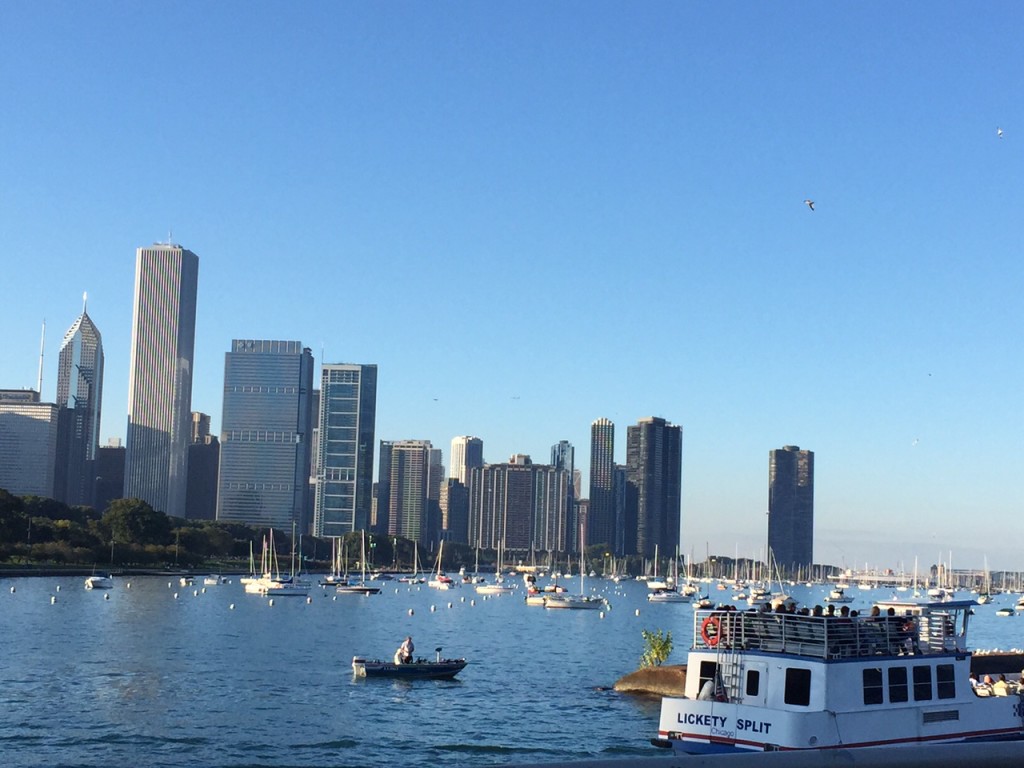 This week I had the honor of speaking at the  the "Move Together" National Shared Mobility Summit in Chicago hosted by the Shared-Use Mobility Center.  The organization was launched one year ago to brainstorm ways that bike-share, car-share, ride-share, and other new mobility tools can become a major force for increasing transportation access, fighting congestion, and improving air quality.
The conference was very well organized, and brought together 500 top transportation officials,  civic leaders, entrepreneurs, car makers, academics from around the country, and even some international entrepreneurs. GoKid was invited to explain why shared mobility is a priority for everyone, not just millennials.
I felt like I was in heaven. Everyone was there for the same cause: Reduce traffic, find alternative mobility solutions and discuss the future of cities. I was deeply inspired by the quality of people and the dialogue. So here are the 10 takeaways that impressed me most:
The Shared Use Mobility Center announced a new goal of taking one million cars off the road in the US by scaling up shared mobility and transit in 15 regions.
Cities are investing big time in mobility and transportation goals: L.A. with one of the most ambitious sustainable city concepts, it makes me want to move there; Chicago, with its equally impressive Divvy bike share system and improved city initiatives like the Riverwalk; and also smaller communities like Palo Alto, California and Memphis, Tennessee presented new concepts and ideas.
Scotland demonstrated that by introducing an extensive "car club system" the ownership of cars could be substantially reduced.
Car manufacturers are in it too. Ford presented completely overhauled car concepts, where the transportation of bicycles was more important than the size of the car, and Toyota is investing and experimenting with new mobility systems in a big way.
Portland, Oregon, while joining relatively late to the now almost 60 US cities (!) that have introduced a bike share system, will take the idea further by introducing a complete green system.
Data is helping commuters and cities improve their routes. Both Bridj and Transloc are examples of how to work hand in hand with public transportation, communities, and new mobility solutions
I learned how cities and administrations can be transformed using a Start-Up City approach – Gabe Klein (former Transportation Commissioner of Chicago and D.C) presented his new book with innovation approaches that work beyond just cities.
True change comes from within communities. Slow Roll, a bicycling movement that started in under served neighborhoods in Detroit, has become a nationwide movement helping underprivileged communities – especially children – discover the benefits of bicycling.
The true cost of driving is staggering: for every $1 one spends on driving, society's cost is $9.20 – how does that  compare to taking the bus $1.50 and taking a bike $0.08? not so well.
While millennials and their changing attitudes of car ownership and modes of transportation is driving most of the sharing community's new startups (think Uber and Lyft), this movement is NOT all about the millennials.  GoKid, our soon to launch carpool app, is targeted at 50 million school-aged children and their parents – anyone calling this a niche market – think again!
I've rarely experience such a motivating and uplifting spirit–a sense of urgency, change, and can-do attitude. It was infatuating. I can't wait for the next edition–and to be contributing toward taking some of the 1 million cars off the road soon.